What Separates Porcelain Veneers From Dental Crowns?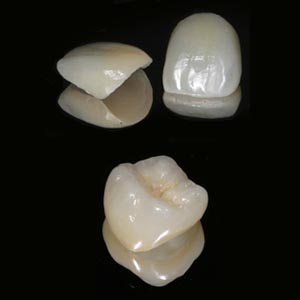 Most of us always dream of having the perfect flawless smile. However, the road to having a great smile is not that easy. It is essential to follow a dental routine in a systematic manner to have great teeth. But most of us might not be blessed with the perfect smile. We might need to opt for some dental corrections to be done. In our previous blog, we have explained 5 top cosmetic dentistry procedures for kids in Garden City. However, if you are someone who is looking forward to getting your teeth restored, visit Dr. Robert M Peskin, a specialist in cosmetic dentistry Garden City to know more.
In this article, we shall talk about dental crowns and Porcelain veneers and find out which works best for you.
Porcelain Dental Veneers in Garden City:
Porcelain veneers is a familiar cosmetic dentistry treatment that enables teeth restoration. Dental veneers are usually made out of materials such as porcelain or other such materials. The intended purpose of dental veneers or even a porcelain dental veneer is to enhance the aesthetic of an individual's smile. It helps in rejuvenating your smile. Usually, one adopts porcelain veneers in Garden City only when they have dental issues such as:
Irregularly Shaped Tooth
Heavily Stained Tooth
Chipped or Cracked Tooth
The procedure of Porcelain Dental Veneers in Garden City:
Once you have decided to opt for dental veneers, the dentist Robert M Peskins explains how veneers can help your overall dental health. They then move forward with a treatment plan and take X-rays and prepare your teeth mold. Once this is done, the dentist prepares dental veneers for your tooth and ensures that they fit aptly and act as a layer upon your permanent tooth. Finally, they are permanently bonded to your natural teeth.
Dental Crowns in Garden City:
Dental crowns are different from dental veneers. Dental crowns are nothing but dental caps which are affixed right above your teeth. People often go for a dental crown in Garden City, in the following cases:
Tooth Decay
Tooth Damage
Discolouration of Tooth
Protect and Cover Damaged Tooth
Procedure of Dental Crowns in Garden City:
Dental crowns are usually made up of different kinds of materials such as metal (gold, nickel or chromium), porcelain, resin or even ceramic. Once your dentist suggests you take a dental crown treatment, they first examine your dental health and create impressions to wear a temporary crown and then the permanent one is fitted in two weeks.
Conclusion:
Whether you want to pick out a dental crown or dental veneer treatment, visit Robert M Peskins DDS to discover more about the procedures of cosmetic dentistry in Garden City. Browse through our website of Robert M Peskin DDS or call our dental clinic at 516-746-2434 to gather more information right away.
---