Advantages of Consulting a Pediatric Dentist Expeditiously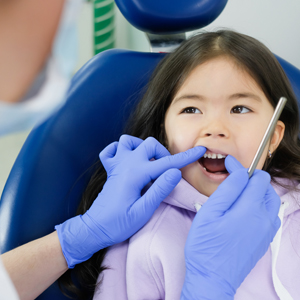 Like physical care, dental care also needs to start young. The oral health routine should start from a very early age to embed the basic discipline in the kids. Pediatric dentist specializes in providing special dental care to kids. Until they reach 18 years, children go through different cycles of oral development.
Pediatric dental care will provide them the right oral health care and oral practices to support their dental health at appropriate stages as they grow. There are multi-faceted benefits of taking your kid to the right pediatric dentist at an early age. In our previous blog, we have explained 3 common dental procedures by a pediatric dentist in Garden City. Dr. Robert M. Peskin has years of experience in pediatric dentistry to offer the best cared to your child.
Let us look into some of the advantages you can reap if you take your kid to Robert M. Peskin DDS clinic at an early age.
4 Benefits of Visiting Pediatric Dentist in Garden City at an Early Age:
Good Oral Rituals:

If you take your kid to the pediatrician early on, the children's dentist in Garden City will embed the core practices which will guide the young one till the end of life. The basic rituals which should be developed at an early age like brushing twice daily, cleansing mouth daily with mouthwash or lukewarm water, taking care of gum, massaging gums daily, flossing, etc will prevent many dental issues. They should be practiced every single day right from a tender age.

Get Used To The Process:

Taking kids to the dentist at an early age will ensure that they are familiarized with the environment. A pediatric clinic must be kid-friendly to let the children have fun. When children get associated with the kids dentist in Garden City at an early age, it reduces the possible fears in them. People with dental anxiety delay the diagnosis of critical dental issues. They do not care to go for a routine dental checkup.

Diagnosis of Oral Issues at an Early Stage:

The possibilities or signs of any infection or decay in your child's oral health can be detected right at the root due to systemic visits. If any of such issues are found, scaling and cleaning can be done before it is too late.

Parental Support:

The dental team will discuss the issues of your child's oral health with you to enlighten the parent as well. Parents are properly educated or trained on how to take care of kids' dental well-being. So, improper practices like thumb-sucking, under biting or over biting can be restricted from a very early age.
Conclusion:
If you are a concerned parent, then visit our dental office in Garden City and consider Dr. Robert M. Peskin to solve your child's dental issues. Browse through our website of Robert M Peskin clinic to learn more about their services. For more information call us at 516-746-2434 to have a conversation.
---